This year we spent 4 days/nights in Dubrovnik. We came up with the idea when we realized that this summer season would be different. An opportunity to visit Dubrovnik without getting lost in the mass of tourists? Not waiting in line for hours to take a picture where Game Of Thrones was filmed? It was not to be missed… The first thing that comes to everyone's mind when someone mentions Dubrovnik is the prices.
I will not write to you about prices because if you read this in a year or two there is a high possibility that prices will vary. I can only tell you that if you go this season you will feel in your wallet that the prices are cut off. But you will still need a good sum of money to have a nice time.
How do they say? It's not all in the money, there is something in the pictures for Instagram, haha…
I was happy that the ticket for the city walls is also valid for Lovrijenac, and there is one ticket for several museums.
What surprised me the most was that the souvenirs that are the same from the souvenir shop to souvenir shop, and vary in price a lot. But never mind, I wanted to cheer up my loved ones with little things.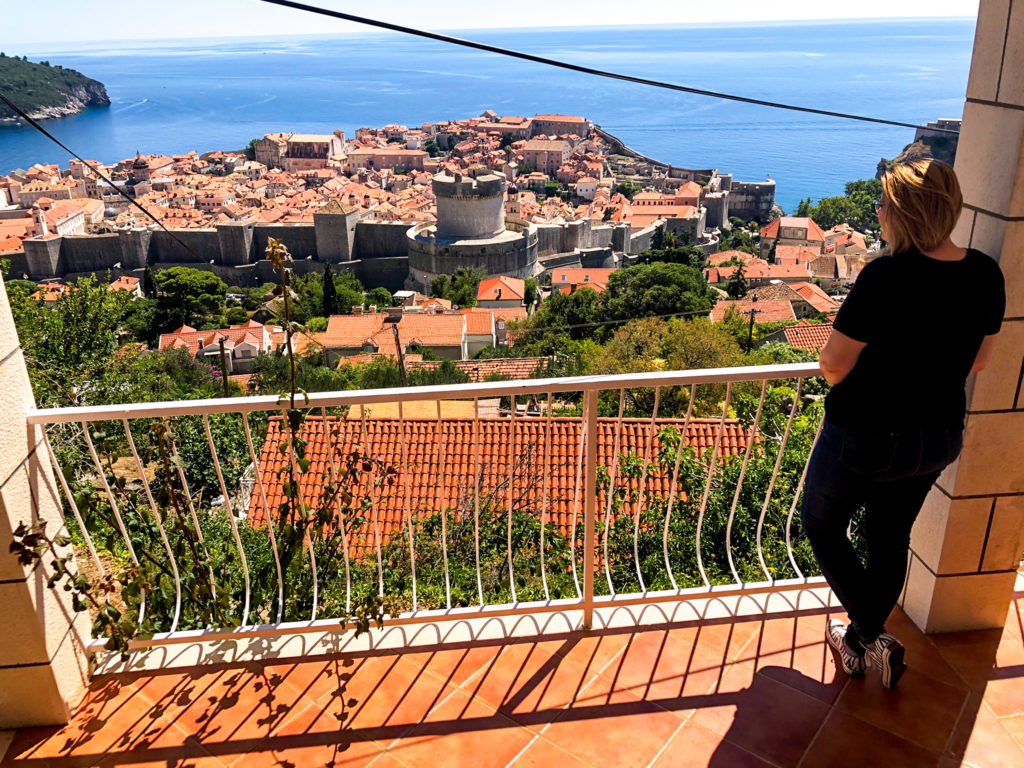 The apartment was a complete hit… but… 10 min walk down the stairs to the center, and getting back by taxi was suggested.
We thought it wasn't that much of a scale and headed up on foot. Once and never again. I barely dragged myself upstairs. But… this view of gold is worth it…
The view from the apartment was in the city center and we had parking which was a huge plus because there is little parking in Dubrovnik and it costs a lot.
My muscles were damaged in those few days…
A few tips for Dubrovnik:
train your legs before traveling because there are a lot of stairs,
wear comfortable sneakers.
Trust me. Dubrovnik has a lot of stairs and you will likely have to cross some stairs for something you want to visit.
As the anniversary of our relationship was the first day of our stay, so in the evening we had dinner at Dubravka 1836 restaurant with a beautiful view of the fortress and the walls.
Table reservation is desirable and the food is delicious. Desserts especially.
Taught by a bad hiking experience, we ordered an Uber for back to the apartment.
The next day we visited the city center, museums, and guided walk on walls. I would recommend a guide to the walls because just walking along the walls is too common. There are so many things that this guide told us that we would never know on our own.
On the third day we visited Cavtat, Lapad, and Srđ, and on the fourth day Lokrum and Lovrijenac.
My friends asked me how many days I recommend Dubrovnik. Of course, it depends on the preferences – whether you want more beaches, museums or you want to include the surrounding places. My estimate is a minimum of 4 days, but 3 is ok if you skip Cavtat and Lokrum. But skip them only if you have to because they are beautiful and worth a visit.
This was a short introduction, but more detailed posts about each place are prepared to give you a little more of Dubrovnik, the city I fell in love with. I didn't realize all that obsession with Dubrovnik until I visited it. And felt that magic. There were a lot of tourists, but they were not as crowded as usual.
I spent the most beautiful moments of this year in Dubrovnik and created memories that will keep me warm on sad winter nights.
One of the reasons why we went to Dubrovnik is my mother's wish. She never went to Dubrovnik, and she wanted to. I promised her we would be together, but unfortunately, didn't manage to make it happen. But she was with me. In thoughts.